East High School recently held their annual Fine Arts Week.
Dear staff,
For those who were off last week, welcome back! I hope you had a relaxing, restful spring break. As we enter this final stretch of the school year, I encourage everyone to do what you can to stay focused on ending the year strong-- which means getting great results for our students. We still have plenty of time left to make a positive impact.
Have a great week,
Jen
---
HP laptop return and replacement to take place June 1-9
In the summer of 2014, MMSD established a three-year lease for 2,500 staff laptops. The lease requires that the laptops and chargers be returned to the leasing company at the end of the lease, which is July 2017. Another 350 laptops were purchased for the student services staff, which will also be replaced at this time. Both the leased and purchased laptops will be replaced by June 9, and the process will begin at district buildings on June 1.
Here's how you should prepare.
---
April 'Live Well, Work Well' Newsletter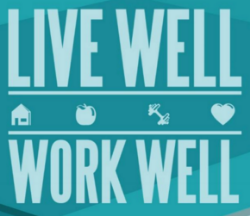 Check out the April edition of the MMSD Employee Wellness newsletter Live Well, Work Well. The newsletter contains information about various MMSD wellness opportunities: winter wellness campaigns, Be WELL Hour, Site-Based Wellness Liaisons, and Mindfulness training opportunities. Also included are articles titled, Phlegm: A Key Player in Fighting Off Illness, Are You Getting Enough Calcium?, and a recipe for Basic Quiche.
---
Apply for a $30,000 MMSD Innovation Grant!
Intent to apply form due this Wednesday
The Department of Strategic Partnerships & Innovation is pleased to announce the 2017-2019 Innovation Grant opportunity, a program designed to provide up to $30,000 to support the planning and implementation of an innovative school-based project over one to two years. Intent to apply form is required and due by April 19.
---
Information for retiring staff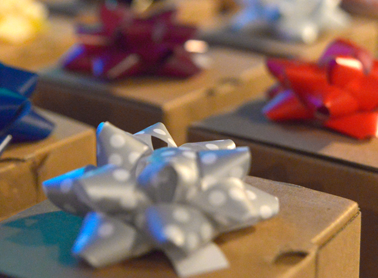 RSVP for May 23 Retirement Reception
The MMSD Retirement Reception will be held on Tuesday, May 23. Retiring staff should RSVP and indicate # of guests.
Submit photo for Retiree Edition of MMSD Connect
The Retiree Edition will be distributed at the end of May. If you would like your photo included, please email it or send to Central Office, Communications Department (Rm 222) by Friday, April 28.
ETF distributes WRS Statement of Benefits
The Wisconsin Retirement System annual Statement of Benefits has been released for delivery between mid to the end of April. Here are some resources to assist you in understanding the statements.
ETF Discontinues Walk-in Appointments, Improves Customer Service
Learn about the ways you can access information about Wisconsin Retirement System benefits.
---
2017-2018 MMSD School Year Calendar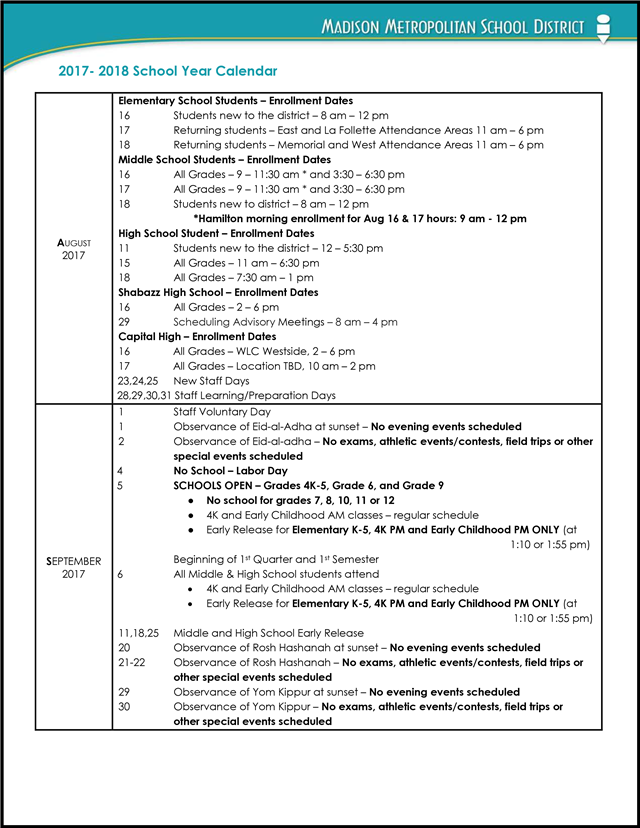 The calendar for the 2017-18 school year has been finalized and posted at mmsd.org/calendar. Here are some highlights:
- We are dedicating two additional days to staff professional development for a total of six. They are scheduled approximately every 6 weeks.
- In order to compensate for these days, we are adding five minutes of instruction to the end of the school day, with the exception of any early release days lunch is not served. See next year's dismissal times.
Do you have questions about the calendar or how it's developed? We've created a list of frequently asked questions and answers that we hope you'll find helpful.
Discussion and planning for the 2018-19 school calendar will begin in May 2017. Our goal is to improve our timeline, process and communication. We welcome your feedback as a part of this process.
---
Lapham students explore sculpture and public art in 'Buildementary' class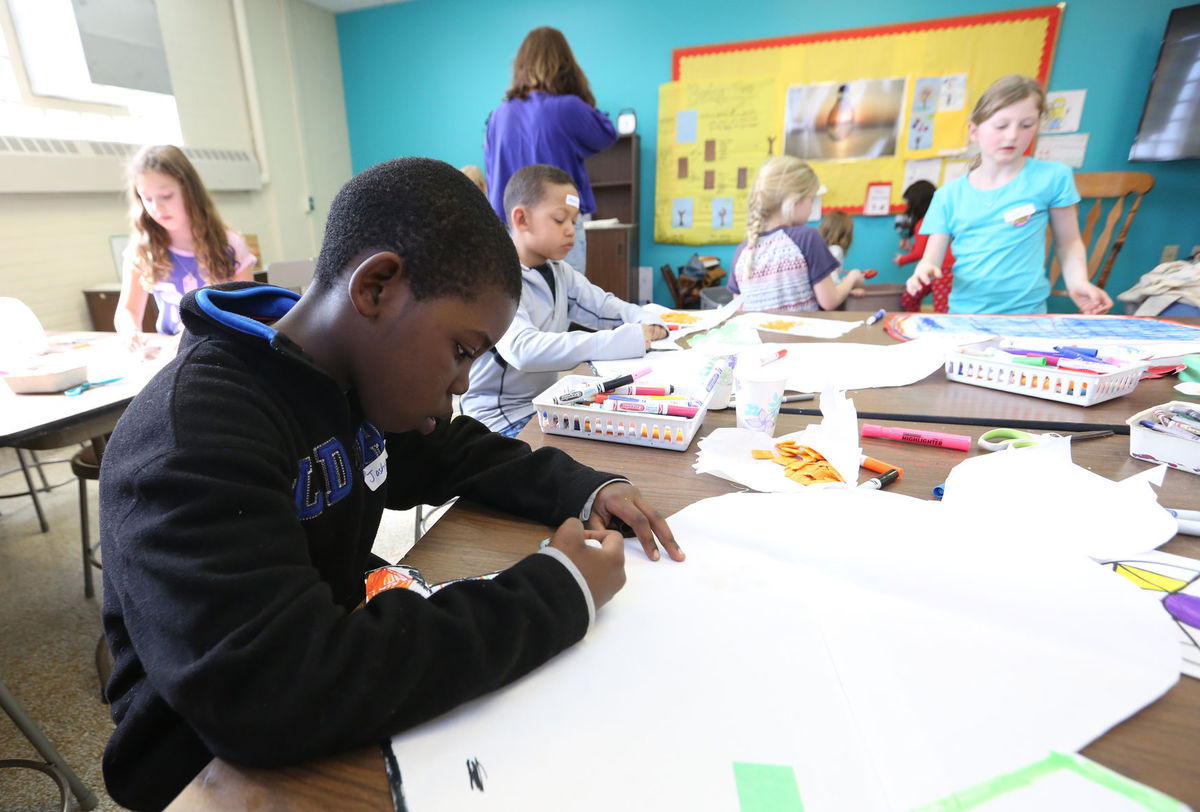 Lapham's "Buildementary: Outdoor Sculptures by Kids" is a 12-week class where students study public art and sculpture. As they learn about the work of artists based in Madison and around the globe, students simultaneously create their sculptures. The class culminates with a display of the students' art along the Yahara River.
Read the story about Lapham students
---
Shout out to Principal Clardy, Sennett Middle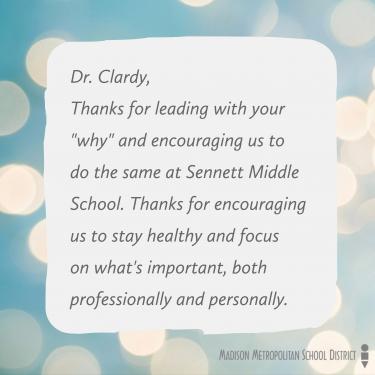 Shout outs can be submitted at the link below. Recipients receive a copy via email and they are posted on the MMSD shout out page.
---
Staff eNews
Find additional updates and announcements from departments and schools, published on Staff eNews. If you would like to share good news from your school or building, you can submit content at www.mmsd.org/goodnews.
---
Resources - see more Resources in eNews
Opportunities - see more Opportunities in eNews
Events - see more Events in eNews
In the news