Above: BOE member Michael Flores was on duty when Lora Schmid-Dolan's afternoon 4k class took a walking field trip to Madison Fire Department Station #6 on September 9.
---
Dear Staff,
Thank you for welcoming ninety-three community leaders into your buildings yesterday for A Principal Experience. We are grateful to the Foundation for Madison's Public Schools for providing this wonderful opportunity for our Principal Partners to get a behind-the-scenes look at our schools.
Also, remember that there are two opportunities over the next few weeks where you can learn more and ask any questions you may have about the referendum. If you aren't able to attend in person, we'll also be live streaming the meetings on Facebook.
Learn more below and find additional information about the referendum at www.mmsd.org/referendum.
Have a great week,
Jen
---
MMSD families share their strengths
If someone made a movie about our family, what would it be called? Can you talk about a difficult time in our family, and how we got through it? What is something about our family you feel thankful for?
In our "Family Strengths" story booth, stopping at schools throughout Madison, families asked and answered questions like these and reflected on what makes their family strong. Here's a preview of just a few of their stories.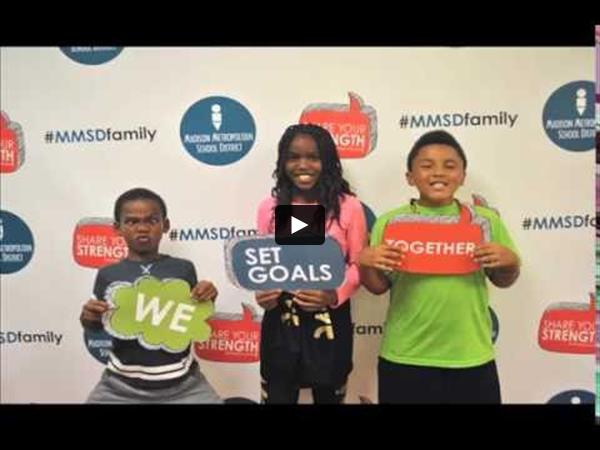 ---
Note referendum info session date changes

We apologize for the confusion. The two referendum info sessions are finalized and scheduled for:
Thursday, October 13
La Follette High School (702 Pflaum Rd.) Library
Thursday, October 27
Memorial High School (201 South Gammon Rd.) Library
Doors open at 6:00pm. Both sessions include a presentation at 6:30pm, followed by Q&A featuring a panel of district representatives including the Superintendent, board members and district staff. Learn more at mmsd.org/referendum.
We will be live streaming the meetings on Facebook. Go to facebook.com/MadisonWISchools to watch and take part in the discussion.
---

Last year's event sold out, and this year's looks to sell out even earlier. Don't miss seeing some of your favorite principals and community leaders perform onstage. Tickets are $40 each and are available to purchase. Proceeds benefit the Foundation for Madison's Public Schools and their work to provide enriching educational opportunities for all MMSD students.
---
'Awesomeness' and 'Perseverance' among themes for back to school events
'Persevere Through the Year": An Exciting and Engaging Night at Sherman
Sherman families engaged in different grade level challenges throughout the night on Sept. 22. Families worked hard to come up with six-word memoirs, solve challenging math problems, and navigate logic puzzles. This night was designed to have families and staff experience and discuss how perseverance is important to academic success. Staff and families also gave suggestions to others on how to persevere.
The evening started with a light meal of subs and chips. After eating, families traveled as grade levels to a space to complete literacy, then on to math, and finally to the gym to complete a logic challenge with our Exploratory staff. Families took pictures to commemorate their challenge success and six-word memoirs have been posted around Sherman. A big thank you to our families and staff for a wonderful evening!
'It's Okay To Be Awesome' at Lapham's Back to School Launch
During the month of September, Lapham students harvested from the Outdoor Classroom and Community Garden, which lead to a tasting activity at the Back to School Launch. Lapham is integrating technology this year and had a school-wide graph that tallied the "best tastes".
The night ended with a Community Circle on Lapham's front lawn where their Breathe for Change partners and JusTme lead everyone in mindfulness strategies which included breathing and an affirmation called 'It's Okay To Be Awesome'.
---
>#SchoolsNotPrisons: East High is housing and showcasing a solitary confinement cell to teach students about restorative justice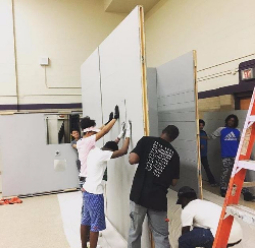 East is currently housing and showcasing the replica solitary confinement cell as a way to teach their students about restorative justice and help them be agents of change.
The cell, which will be at East through the end of October, was built based off of a drawing that was smuggled out of solitary by an inmate and includes a soundtrack of what it sounds like in solitary (note: FAR from quiet). Along with the cell students will also be learning about life in prison and solitary confinement from former inmates as well as family members of inmates that have served time.
There are 2 replica cells in the US and East is fortunate enough to not only have one for a month but to also have their art gallery showcasing art from a prisoner.
The EHS social studies department will be using the cell in each of its classes. Students will be spending one day with the cell and the art around it and another day with a panel of presenters. There will also be an evening community event around the cell (details to come). Questions? Contact Leigh Vierstra, lkvierstra@madison.k12.wi.us
---
---
We'd like your ideas as we develop
Building Excellence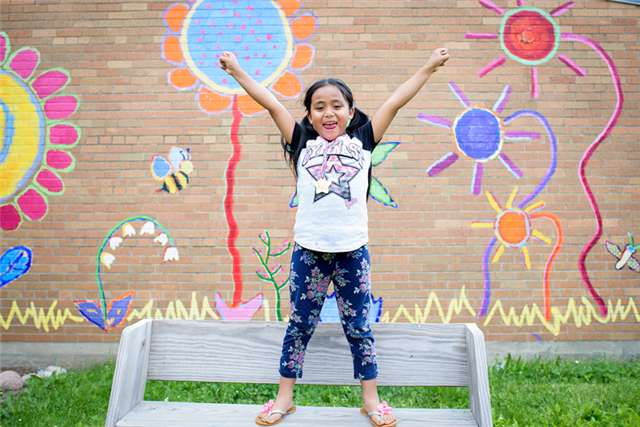 Throughout this school year, we are developing a set of planning tools – formerly referred to as the Long-range Facilities Plan, now being called Building Excellence – to guide the decisions that we make about our school buildings for the next two decades. Community engagement is a critical piece of this work, and we need your ideas.
Will you attend an upcoming focus group session to help identify areas that need attention and create guiding principles for decision making? Focus groups are open to all staff in the district. Remaining sessions:
Tues, Oct. 18, from 3:45-4:45 pm in the Gompers LMC
Thurs, Oct. 20, from 4:00-5:00 pm in C17 at La Follette High
Tues, Oct. 25, from 3:30-4:30 pm in the Whitehorse LMC
Wed, Oct. 26, from 4:00-5:00 pm in the Toki LMC
Learn more / provide feedback online.
---
Exciting opportunity for MMSD teachers seeking dual certification!
The Department of Student Services and Madison Teachers, Inc. (MTI) are holding an Informational Meeting on the Grow Our Own-Teacher Dual Certification Program. Selected candidates can receive up to a $1,000 in tuition reimbursement per 3 credit course taken and teach in MMSD using their new certification. Please click on the attached link for more information.
The Informational Meeting will be held Oct. 26 from 4-5pm at the WEA Member Benefits Building, 660 John Nolen Drive. The Grow Our Own- Teacher Dual Certification Program is intended for general education teachers interested in cross categorical special education certification OR cross categorical special education teachers interested in bilingual certification. Selected candidates can receive a $1,000 per 3 credit course taken each semester (fall, spring and summer). The application deadline is Nov. 18.
Questions? Scott Zimmerman, slzimmerman@madison.k12.wi.us or 663-8486
Learn more by following this link
---
Health Insurance news from the Benefits Dept. Open Enrollment Period and Premium Stipend Update
Benefits Open Enrollment:
Oct. 15 - Nov. 15
Benefits open enrollment is Oct. 15 - Nov. 15. This is your time to make changes to your health insurance, elect a 2017 flexible spending account and/or enroll in vision insurance (a new plan for 2017). Information about open enrollment will be sent to your school mailbox around Oct. 14. Learn more Open enrollment.
Health Insurance Premium Stipend: Update
MMSD is finalizing the calculation for the health insurance premium stipend for employees that qualify. The purpose of the stipend is to help offset the insurance premium contribution change that started at the beginning of this school year.
The stipend will be paid out on Dec. 16 to employees who did not receive a step or lane advancement (or those whose step/lane advancement did not cover the cost of the insurance premium change).
If you are eligible for the stipend, you will be notified through a letter mailed to your home. The letter will include your stipend amount along your individual stipend calculation.
Questions? Rachelle Hady, Director of Benefits,
rdhady@madison.k12.wi.us
---
Strengthening Families. Building Community.
The MMSD/MTI United Way Combined Giving Campaign kicks off on Monday!
It's almost time for the MMSD/MTI United Way Combined Giving Campaign! Between the official kick off on Oct. 17 and Nov. 18, any MMSD staff member can choose to donate, any amount, to more than 300 local, state, national and international organizations. The organizations are represented by seven umbrella agencies.
Giving is easy. The most convenient way to give is through automatic payroll deduction on our e-pledge site. You can also give cash or a check. You'll receive informational booklets with further information around Oct. 17.
Each school has a Building Champion. Building Champions are available to answer your questions about the campaign. You can find more information and resources on the campaign website.
Thank you for your support,
The 2016 Combined Giving Campaign Committee
Questions? Marcie A Pfeifer-Soderbloom, mpfeifersode@madison.k12.wi.us
---
October is National Farm to School Month: What's Happening at MMSD?
October is National Farm to School Month and there is a lot to celebrate in Madison. REAP Food Group's Farm to School program is entering its 13th year. REAP and MMSD Food & Nutrition plan to increase local fruits and vegetables served from 50,000 pounds in 2015-16 to 100,000 pounds in 2016-17.
---
MSCR at Lake View Afterschool Program offering DrumPower!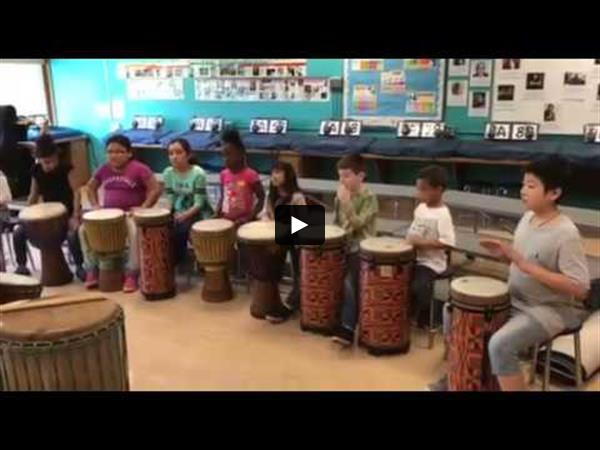 DrumPower is a youth leadership program that provides young people with an opportunity to learn West African Traditional and Afro-Brazilian drumming and their cultural/historical significance. The program builds self-esteem and confidence through discovering the rewards of discipline, teamwork, creativity, responsibility, self-respect, and ultimately, positive contributions to the world. Click the video above to see our youth drummers in action!
Shout out to Emerson staff!
---
Staff eNews
Here are additional updates and announcements from departments and schools, published on Staff eNews.
Spotlights
Resources
Events
News
Opportunities