Above: Sennett students read choice texts, which are in every middle school classroom across the district (each classroom received 4 copies of 30 titles). As part of the strategic framework, Literacy purchased the core reading materials - core instructional anthologies and choice texts.
---
Dear Staff,
As you know, the Board recently approved placing a referendum to exceed our revenue limit on this November's ballot. In this edition, you'll learn about two opportunities coming up in October where you can learn more and ask any questions you may have about the referendum. If you aren't able to attend in person, we'll also be live streaming the meetings on Facebook.
Learn more below and find additional information about the referendum at www.mmsd.org/referendum.
Have a great week,
Jen
---
Questions about the referendum? Here are two upcoming opportunities to learn more.

The Madison Board of Education voted to put a referendum on the November 8 ballot asking taxpayers for approval to raise the school district's revenue limit authority by $26 million over 4 years. It would mean a $3 increase in property taxes per month for the average homeowner.
We are holding two information sessions for those wishing to learn more and ask questions.
Doors open at 5:30 pm, with Superintendent Cheatham presenting at 6:30 pm, followed by a Q&A with Assistant Superintendent of Business Services Michael Barry.
Tuesday, October 11
Memorial High School (201 South Gammon Rd.)
Library
Thursday, October 27
La Follette High School (702 Pflaum Rd.)
Library and Media Center
We will be live streaming the meetings on Facebook. Go to facebook.com/MadisonWISchools to watch and take part in the discussion.
Those needing interpretation or childcare are asked to RSVP at least 10 days before the event to 608-663-1879 or referendum@madison.k12.wi.us.
---
>Ninety three community leaders will participate in A Principal Experience on October 11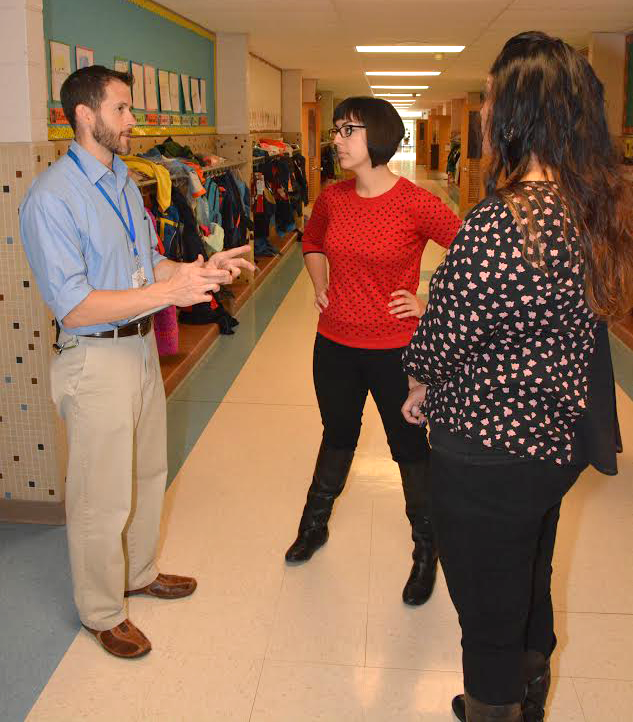 You can find a complete list of Principal Partners on the Foundation for Madison's Public Schools website.
Earlier this week your principal learned who will be serving as the Principal Partners at your school. Given the tremendous response this year, most schools are hosting more than one Principal Partner. Thank you!
A Principal Experience activities will begin the morning of October 11, and principals and their partners will go to the Alliant Energy Center for lunch and a facilitated program that concludes in the early afternoon.
Above: Nuestro Mundo Community School Principal Josh Forehand with his 2015 Principal Partners Leslie Orrantia and Mayra Medrano.
---
Mindfulness at MMSD: Upcoming opportunities
This past summer, nearly 200 of our MMSD teachers and staff participated in mindfulness courses and events intended to enhance personal well-being. Feedback was highly positive, and additional District-wide offerings are planned. Enrollment is now open on the MMSD PD Portal for a Day of Mindfulness on November 19; and a 10-hour Developing a Personal Mindfulness Practice course beginning November 28.
---
Check out the September edition of the MMSD employee wellness newsletter Live Well, Work Well!
Topics include Mindfulness in MMSD, wellness assessments, benefits of green tea, and a healthy recipe for summer squash.
---
Fall Employee Wellness Campaign: The 30 Day Challenge
The MMSD Employee Wellness Committee is excited to announce the fall wellness campaign. The campaign titled, "The 30 Day Challenge," is an individual challenge that all employees can participate in. The program will run from Oct. 17 through Nov. 15, with sign-ups due by Oct. 12.
Learn more the wellness committee
---
2016-2017 Flu Shot Schedule
Starting on Friday, Oct. 7, Home Health United will be coming to certain MMSD locations to administer the flu shot. There should be a schedule of dates/times posted at your location/school, and you can also access it below. If you have any questions, please call 663-8437. To avoid a cost, please bring your insurance card. Note: Spouses and children are not eligible to receive flu shots.
---
October is National Farm to School Month: What's Happening at MMSD?
October is National Farm to School Month and there is a lot to celebrate in Madison. REAP Food Group's Farm to School program is entering its 13th year. This school year the program will be serving local fruit and vegetable snacks each week to more than 5,000 students in 13 schools with a higher number of students from low-income households, teaching nutrition and agricultural concepts so students understand where their food comes from and how it was grown, providing hands-on culinary training, and transforming school lunch with garden bars at 32 elementary, middle and high schools.
REAP and MMSD Food & Nutrition plan to increase local fruits and vegetables served from 50,000 pounds in 2015-16 to 100,000 pounds in 2016-17.
"Having REAP here to work with our kids is really a vital component of what we're doing," says Steve Youngbauer, MMSD Food & Nutrition Director. "It takes multiple times of getting students exposed to different types of food to really make healthy habits become something that will hopefully last a lifetime."
See the list of upcoming events
---
Pay Check questions? We have answers!
Two new, easy-to-navigate Google Sites have been created to walk you through understanding your MMSD pay check. See information for Monthly paid employees and Biweekly paid employees.
Shout out to Tricia Crowley, PBIS Coach at Falk!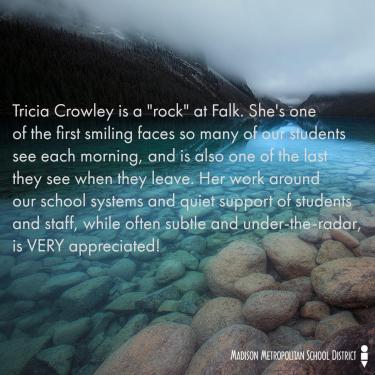 ---
Staff eNews
Here are additional updates and announcements from departments and schools, published on Staff eNews.
Spotlights
Resources
Events
News
Opportunities